In 2007, a Friend of mine moved from Easthampton to Westfield suddenly. I hadn't seen her in a few months and when we got back in touch, she told me some local legends from her new town. We had always been into Abandoned and Forgotten locations, as we both possessed an interest in photography which brought us together in the first place. She told me of a place in Westfield- a full, suburban community with beautiful houses and new appliances inside that had been abandoned abruptly because of the ground they had been built atop. I was hooked on finding out the mystery.

Flash forward about 6 months later, to present day. Another friend of mine had brought up this place in conversation, having called it "White Ninja". Upon closer research, I found out that this community was what was to be called "City View Commons" located off of City View Road in Westfield. Someone made up a lame legend claiming that if you trekked out at nite, a white ninja would appear from the first house on the left and kill you instantly. Typical teenage local folklore rubbish. Apparently, construction of this full-scale was just about wrapped up and people were already living in some houses before some environment officials claimed the land to be unsuitable to build or live on. Construction and everything surrounding the project was abandoned. I'm unclear on what year it was, but if anyone can tell me, we'd appreciate it.

So there you have it. A full community of beautiful houses on an abandoned, overgrown residential road. They still stand there today and Myself, Klondike, and our resident guide from a UE group all went on Thursday the 19th.

Our sources weren't lying. The houses were there. The interiors there- new fireplaces, countertops, bathtubs- at one time, fridges, stoves, and the rest. Over the years, the place has seen its share of wild parties, blunt smokin', and vandalism, which is clearly evident from the numerous liquor bottles and tagging.

Here are some pictures to spark interest from the community.

Here's the road leading up and a general view of Cookie Cutter Road as it is affectionately called.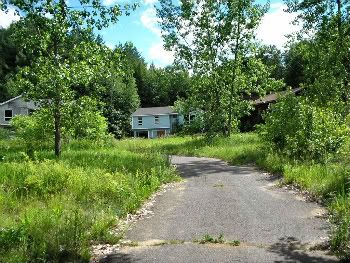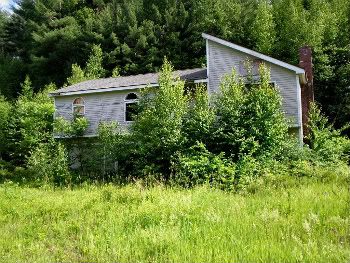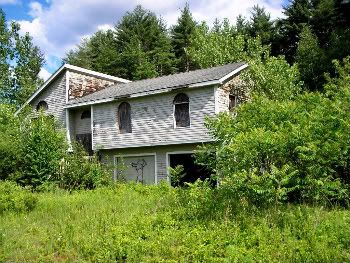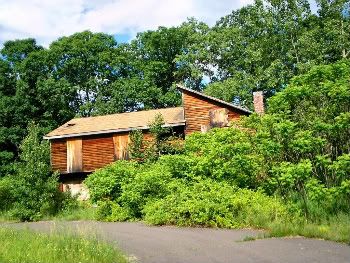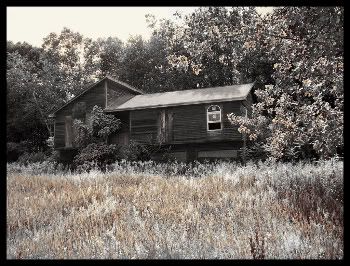 "Alarm- Keep Out" - Yeah. Okay dude.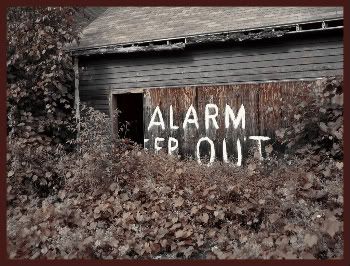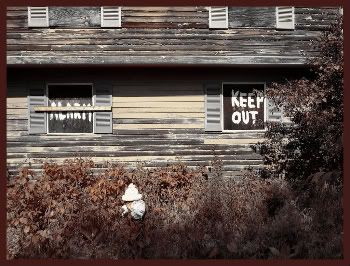 I'm gonna go ahead and guess these houses are all "big red x" buildings like the paper mill was in downtown Holyoke...




Some fun interior selections, including myself here showing that Western Mass Hardcore is apparently everywhere considering their tag is even in the most dismal of places.



Don't step on this floor. Floors are damn near rotted down through the garage!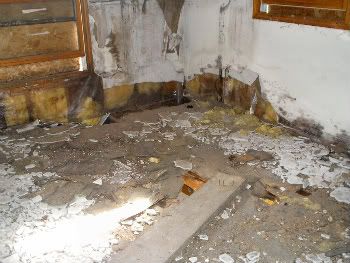 One of the few unfinished houses... Oddly enough, the one that "White Ninja" allegedly resides in. We didn't see him that day.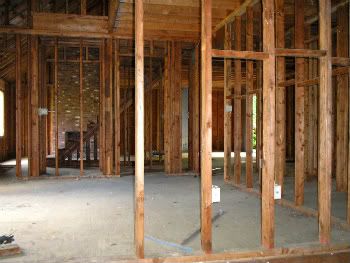 Here's the exterior pics of White Ninja's cute little cottage.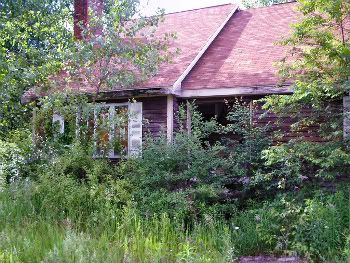 Anyone remember that movie that was shot locally at Northampton Hospital, Knightville Dam, Old Easthampton Town Hall, and the surrounding areas- In Dreams? Well, someone decided to be crafty and scribble the wall markings from the movie in one of the upstairs bedrooms. They forgot a couple of words, thus just making them look stupid as hell. Oh well, better luck next year.




Overall, White Ninja aka City View Commons is definitely an oddity to add to the list of the strange things here in Western Mass, and is definitely worth the trip to check out if you're heading through the area. The road is in plain sight (unmarked) and there's not a single no trespassing sign anywhere. City View Commons: Another failed Western Mass Suburban Community.
-01027 Ninja